Late Model Classifieds

2000 MasterSbilt with 04 updates on rear, overrail square tube chassis
-complete car minus motor/headers/radiator
-4 bar car
-4:86 Winters rearend
-32 gallon fuel cell
-WMF bearing birdcages
-Wilwood brake system
-.810 rotors on front, 1.25 on back
-Wiles aluminum driveshaft
-Falcon transmission around 25 nights
-MasterSbilt LW steel spindels
-D&M 2 peice lowers
-Afco uper a-arms
-Afco al. threaded body 1300 series shocks
-Koni steel body gas shocks
-Kirkey seat Simpson belts
-Autometer gauges
-Longacer brake bias gauges
-Allstar 3 gauge panel
-Allstar in car brake bias adjuster
-rf shut-off
-8 or 9 sets of gears
-9 wheels 3 non, 6 bl
-also have a aluminum bell housing, mini-starter, new drive flange all for chevy
-lots of spares, if it fits on the car than it goes extra coleman aluminum drive shaft, qc cover, brake rotors, wilwood calipers, a-arms, lowers, various length bars and heims, 2 hats for a winters rearend center one axle tube and axle with ring and pinion with yoke extra j-bar pinion mount, TWM birdcages, hoosier and AR tires, etc...
-thanks for looking, if interrested give us a call at 1-731-858-2775 car is located in sardis,tn $5500 for everything-getting into four-wheelers
(added 9-25-08)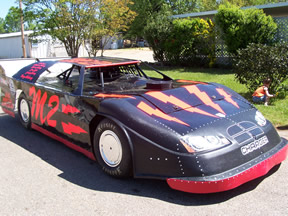 2000 rocket W/2006 up dates. All new springs,shocks,gages,drive shaft,nose,& double pass radiator. Complete roller less engine & trans $10,000 Call or E-mail terry@amracingstore.com .
(added 9-13-08)
2000 MasterSbilt with 04 rear updates
-complete roller with trans for $7000
-or can also be bought turn-key with all spares if interested
-car has all the good parts and pieces, give us a call for the parts list home-731-858-2775 7pm-9pm would be the best time, thanks
(added 8-26-08)
Jay Dickens 430 SB2 Engine
900 Laps since new (150 laps since freshened)
$19,000
Call Jason Creel at 985-515-1778
2005 RAYBURN LATEMODEL
2005 RAYBURN under rail roller. @ 50 nights on car, New body, gauges, deck and interior and tach new in 07'. added cockpit security, Great shape. New body, nose fenders all ready for graphics.

$7000.00 Complete car less tires and wheels.

Gordon Steffens
314-368-4251 or 1-866-966-PLUS
(added 7-1-08)
RUSSELL BAKER 415 DART BLOCK 18 DEGREE BRODIX HEAD MOTOR AVAILABLE
- KB CARB FOR THIS MOTOR
RUSSELL BAKER 430 BRODIX BLOCK & HEADS BD 1010 MOTOR AVAILABLE – 130 LAPS SINCE NEW BUILT MARCH 2008
TOP OF THE LINE MOTOR – LIGHTWEIGHT BLOCK ETC…..
- BRASWELL CARB

- BEYEA TRY Y HEADERS
www.toddhallmotorsports.com , gthall@ftsmo.com email , cell 573-683-1299
More information on motors in the For Sale section of website.

Rocket w/complete 2006 up dates. all new springs,shocks & gages. Almost new felcan trans,colman alu drive shaft ,double pass radiator,(8) weld wheels & tires,surpintine water pump& power steering ,schoenfeld headers,& 604 engine. Less than 150 laps on engine. Reason for selling is Monticello speedway no longer runs latemodels regularly.The second time out it placed 10th at the Gumbo nationals @ Greenvile speedway. This car is a winner with the right driver.
Asking $15,900 (Financing Available)
Call or E-mail terry@amracingstore.com, 870-367-3715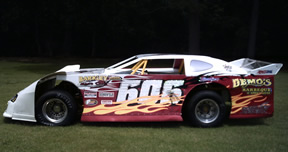 Description,
2001 Swartz complete roller
aprox. 40 races
1 afco double adjust shock new
1 afco double adjust shock rebuilt
2 allum. afco shocks rebuilt
New birdcages
6 races on the shocks and birdcages

looking for $4500 or best offer

phone calls only 870-926-5112
jonesboro, ar
Demo Gambill
(added 6-14-08)
Aluminum 430 Russell Baker Racing Engine
Brodix BD1010 Heads
Brodix Block
Completely new in March 2008
110 Laps since built.
Comes with Braswell Carb, Beyea Try Y headers, and FRP radiator.
Top dollar engine, super smooth with great power. Build and Dino sheets are available upon request.

Also have a 415 Brodix 18 degree head motor with a Dart block for sale.
Thanks for looking,
Todd Hall
Charleston, MO
573-683-1299
gthall@ftsmo.com
(added 6-2-08)