Open Wheel Modified Classifieds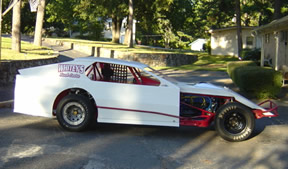 2003 GRT MODIFIED , CHASSIS # 383 COMPLETE RACE READY , FRESH 406 MOTOR , DART HEADS COMPLETE ETERNAL BALANCE , B & G ALCOHOL CARB. HURRICANE INTAKE , MSD , ELDORBROCK FUEL SYSTEM , QUICK CAR GAUGES , BRAKE BIAS GAUGES, RAM TRIPLE DISC, DYANITECH HEADERS, FAST SHAFTS DRIVE SHAFT, 3 SPEED TRANS. 9 in. REAR / WITH 5.67 GEAR, 4 BAR SET UP, 32 GAL. CELL , WITH FLAPPER, CHASSIS IS POWER COATED RED, NEW BODY (WHITE) CAR HAS NOT BEEN RAN IN TWO YEARS , RETIRING FROM RACING AFTER 25 YEARS CAR IS COMPLETELY READY TO RACE COMES WITH SET UP SHEETS, $8500.00 , CASH / MASTERCARD / VISA / DISCOVER.
(added 10-3-08)
Car & Trailer for sale
03 modified - complete body , car is on a 3 link , has a colman floter 9" under it , no motor , trans , or MSD , got plenty of parts ,
trailer - single axle , single row tire rack ,
I can send you pics
Trade - what do you got
$6000.00 obo
home 601 845 2211
cell 228 326 2980
(added 9-10-08)
2003 DW8 For Sale
Olathe, Kansas

Asking $5,500

After this car was purchased it was stripped down and completely redone. Since it was redone it only has one practice and one race on chassis.

New components:
Z-Link Suspension
New Shocks and Springs
Brinn Transmission
6.0 Lightened Rear Gear
2 to 1 Quick Steer
Starter/Bell Housing
Radiator
New Fuel Lines
Fuel Tank/filter
All new gauges and wiring
All new power steering lines
Chris Willard
913.957.2716

(added 8-27-08)
For Sale: '03 W.T. Harris modified chassis. Car has less than 35 nights since new. Complete roller, body has 5 races on it. Rear quarter panels slightly wrinkled, but otherwise looks new. Selling as a complete roller minus engine, transmission, rear gear, radiator and p/s pump. Add your Motor, tranny, gear and accessories and go racing. $3700 obo. Can be seen at www.sunburstracing.com (248)709-5761 Cell, (573)204-3224 Home. Car is located in Southeast Missouri.
(added 8-26-08)
05 dirt works dw9.
4 bar/zlink comes with everything less motor/trans/gear. good clean fast car. $4800 obo. contact 601 433-9534
(added 8-6-08)
2007 Taylor/Shaw Modified The name says it all! It is a proven winner. 11 nights on car, 4 wins. This car is like new for a lot less money! Selling as roller, no expense spared; only the best money could buy! For all details or photos call. Serious inquires only! $9500.00 Call Scotty Covington (225)-278-6189
(added 8-5-08)
08 Shaw with only 2 nights on car, all new parts...
Hypercoil Springs
QA 1 Shocks
Afco double pass
Kirkey lt weight seat
Low friction ball joints
Hybrid rotors
Hawk pads
Winters 9"
6.00 full spool gear
MSD-complete
Trick custom gas pedal
Brinn Trans w/steel bellhousing
Driveshaft
Outpace arms

This car and all parts are in like new condition, very few laps...complete roller w/driveline.
$16,999-Will entertain REASONABLE offers!
Call 903-277-6609
(added 6-14-08)